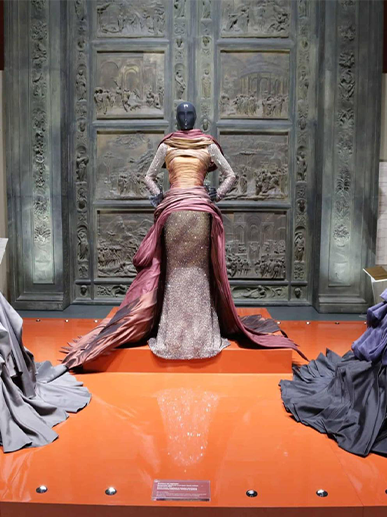 Despite the internet still being a means for communication with anyone in the world, searching for information, and interacting on social media platforms, the internet is constantly evolving and augmenting digital interactions with people all around the world. All this was made possible using an amalgamation of various elements of technology, including augmented reality and virtual reality where people live inside a digital world where users are part of the act.
Thanks to the internet and growing technology The NFT is booming and has been very popular in recent times, it is said that fashion NFTs represent the next groundbreaking step. Whether it is limited-time wardrobe collectibles, fashion prints, and skins for avatars that can be used in games and several other metaverses.

Luxury fashion houses like Balenciaga, LV, and Gucci have already stepped into this by partnering with popular games. On the 100th anniversary of Gucci, they sold Aria NFT collection with art auction house Christie's for USD 25,000.
With NFT it is expected to change the way fashion labels integrate non-fungible tokens into their fashion designs. This new trend is being considered as a digital revolt that can change the fashion world in an unexpected direction that no one could ever imagine. As more people are getting aware of the NFTs and buying them, it is said that a huge amount has already been spent on digital fashion. Items like the riff on Hermes baby Birkin bag which was an animation of a baby growing in a Hermes Birkin bag got sold for $23,500 that is a lot more than the physical one. Apart from that RTFKT design studios 18-year-old digital designer sold 613 pairs of shoes starting from $3 to $10000 a pair and he made a total of $.1 million.
As NFTs continue to gain popularity and open doors to a whole new world, lots of fashion designers are starting to capitalize on the business of digital collectibles. These unique and tangible products solve the reproducibility of digital clothing. The fact that a digital product/item can be as good and unique as a physical item is very interesting for fashion. In short, technology's pace is quite fast and NFT is changing fashion design. Brands need to be ready because personalized shopping experiences will soon become a must-have.
29 Mar
2022