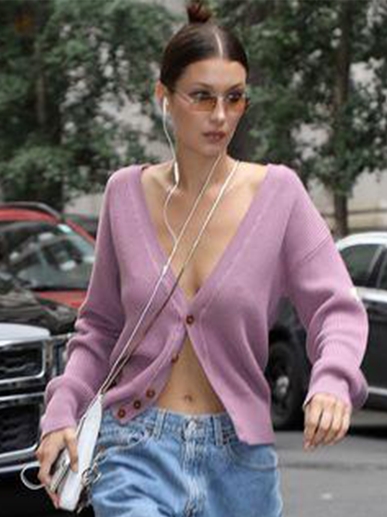 Do you ever think of going back in time? With fashion, you can do that.  Fashion from the style of the millennium is back for round two whether it's Bella Hadid in double denim Justin Bieber in chunky shoes or Kim in velours suits, there is ample nostalgic influence present nowadays. The distinctive y2k style is a blend of pop culture and tech advancements. 
What is y2k fashion?
The y2k look is distinct and inspired by the early 2000s when the internet gained popularity, during the fame of dot.com.  the acronym stands for " the year 2000" and is the name of a computer programming error- the name of this fashion trend came from the name of a software bug. 
Today y2k style has a futuristic retro edge to it- think metallics, velvet joggers, bootcut jeans, baguette bags, chunky shoes, trucker hats, bubble pink everything, and colorful sunnies. Some of the 2000s biggest influences include Ashlee Simpson, Bratz dolls, Britney Spears, Christina Aguilera, Regina George and Carrie Bradshaw.
While the trends in the last few years had focused more on minimalistic laid back style. Y2k is all about making a bedazzling statement and a loud declaration. For millennials, it captures the energy and nostalgia of childhood and early teens. 
Fashion in 2000
The rule of the year 2000 was 'think of the future, say goodbye to ol' classics.' The fashion of 2000 is a mix and match of technology and pop culture, reflected in thick soles, metallic shades, colorful accessories. Films from the late 90s like sex and the city, mean girls, and the matrix inspired the fashion industry as well as the general public in terms of style. 
What was worn by Britney Spears, destiny's child, Nsync, Avril Lavigne, Paris Hilton is what inspires the millennials and Gen Z today. The knack of nostalgia made the fashion of the 2000's come back with a bang and turned it into something impossible to miss. 
Why has the y2k aesthetic made a comeback
Back then it was nothing extraordinary for celebrities to walk the red carpet wearing belly-bearing jeans and high wedge heels. The style of today brought an explosion of new cuts, materials, and colors. It was as if all the styles of 2000 were just a warm-up for what we know as y2k fashion in the present day.
Gen Z knows its way around making everything look cooler than it is or was back in the day. For example, Dua lipa in low-slung denim or Zendaya in a silk scarf paired with baggy jeans looks so cool and varies no resemblance to our 'gulps' teenage pelvic bone-bearing low-rise pants and cringe-inducing pictures in shiny outfits in our high school yearbooks. There is something about the Gen Z crowd that always finds a way to translate even the most bizarre of fashion trends into a very cool form. Today y2k fashion is a sartorial limbo of streetwear meets charm.
Some of the y2k trends are gaining more popularity than others including baby jackets, midriff-bearing scarf tops, trucker hats, and ultra low rise jeans, 
Now that we are aware y2k fashion is here to stay so there will be a whole lot of statement looks to try. Y2k pieces can fill your look with a distinct oomph and flair (minimalists steer clear). Y2k fashion is ideal for night outs, soirees, cocktails, or anything that you can think of. Add a pop of colorful eye shadow, rock a space bun, and let your inner 2000 teen go wild and free!
29 Mar
2022