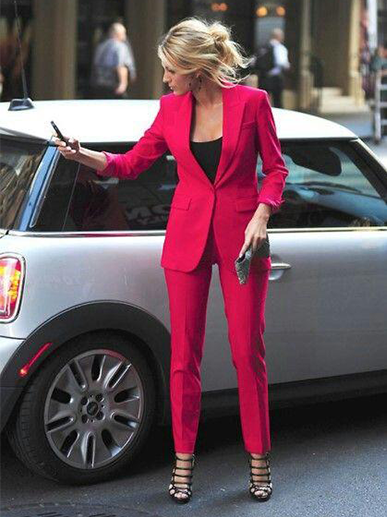 Thanks to the aftermath of a global pandemic, fashion has learned how to reconstruct itself. Designers came up with creative, functional clothing but at the same time brought sexy back with new trends that work for every style and gender. These comfortable pieces come in bold colors infused with a festive optimism, to bring us some peace and celebrations to start up a mask-free life again. The pants are getting roomier and the skirts are getting shorter, meanwhile, dressing in leather is the new sartorial security layer. Here we break down the fashion trends for the fall 2022 season
Go bright or go home
With bright hues and colorful patterns, designers are serving a friendly reminder that there is light at the end of every dark tunnel. Bright shades and vibrant pieces are all about new beginnings this fall ' 22. We're talking royal blues, all tones of yellow and Barbie pinks. 
Micro minis
Not gonna lie, we will always love maxis and midis, but fall 2022 is going to be all about bare thighs and raising the hemlines to minuscule lengths.  If you want to keep your stunning itsy bitsy mini skirt work appropriate, pair them with knee-high boots. 
Love me some leather
Matrix-esuqe numbers are talking hold of the zeitgeists; the fashion world has made a comeback with leather pieces and dark trenches. If you have an old leather piece in your closet, it's time to dig it out and rock a battered, faded punk edge leather look.
Big belts
The vibe of outer outdoor gatherings this fall '22 is going to be big since we are no longer bound at home 24x7. Big belts will take the center stage to be worn over capacious jacket silhouettes for extra crisp season oomph. 
Power dressing
Going back to work means an ultimate return to the power suit. Traditional workwear can look super chic with just the right amount of tailoring, we're talking oversized fits, sharp shoulders, monochromatic color schemes over contrasting separates, vintage shades of black and brown and if you want to go bold then electrifying shades of blue and pink will elevate your overall look. 
Y2k aesthetic
While Christina Aguilera might have been swapped for Dua Lipa, a love affair of the 2000s is on fire and there is no taming the flame. So it's time to embrace low-rise pants, feathers, velour sweatsuits, and plaids. After all, it's will be a new season babe, and you will look better than ever.
Sheer here, sheer there
Fall 22's new obsession and we are sure of it. For this sultry and sexy look, dresses can come as long or short as you like, you can reveal the skin a little here and there, or for a more daring effect, show' em what you got girl!
Glitz and glam
Feathers, sequins, pearls, and rhinestones light up the runways. The outcome? A dazzling style that is simultaneously gorgeous and an epitome of good taste.
30 Mar
2022