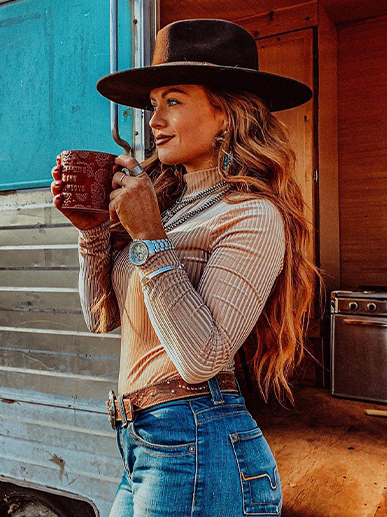 Western-style has made its come back and is trending everywhere, from runways to stores and all over the feeds of Instagram influencers. And now everything from cowboy boots, gingham print, fringe, cow print, mid-calf boots are hot on this season's style list. This trend is bold and statement-making, but it is also elegant and refined. Let's have a look at some of our favorite western-style and print trends
Gingham print

Tell me a more classic western print, I'll wait.
You can't do western without gingham. It continues to be a top seller to this day. For a fresh take on a rebellious aesthetic, pair a gingham dress with knee-length boots and a bold necklace for a look that says 'wild west'.
Printed cowboy boots
Print and boots? Bring it on! Adding bright colors and prints to your boots with textures, tie n dye and animal print will put a modern spin on your much-loved boots.
Cow print

Have you introduced yourself to animal print? If not, now is the time to do so. The western print trend that is going to dominate the year is cow print. You can wear this ranch print itself or with anything from belts, purses, boots, or skirts. 
If you are not up for a full cow print look, try a statement piece at first, like a cow print handbag or a belt.
Fringe jackets

If you are looking to take your western style to the next level, select a piece with fringe trim detailing. Fringe gives your entire outfit a bold, standout moment so that you can ease up and keep the rest of your look sweet and simple.
Zebra print 
Zebra print has a 'goes with anything' wearability with a cool girl slant to it that makes it perfect and easily wearable from accessories to apparel. 
Abstract print 
The abstract print has a yeehaw agenda to it. The array of distortion and coloration offered by abstract print is different from safari prints but it's certainly fresh of the runway and worthy of your night-out aesthetic.
Chevron print
Smooth sailing stripes + playfulness = chevron print and patterns. This eclectic, vibrant, and fun-loving print will be a great companion for you while you rock the western look. You can use this print for everyday looks since it's super chic and looks very flattering on every body type. 

29 Mar
2022